Quality catering for house warming Delhi NCR
Moving into a house marks the beginning of a new phase of your life. Your house warming is a day that you wish to celebrate with your near and dear ones. Add to the charm of this day by hiring us as your caterers for house warming and make this day memorable. You can be carefree about the food's quality and taste when you hire a reliable catering service such as ours.
We will get back to you asap!
Crafting a delightful menu for your house warming ceremony catering
A house warming ceremony is an occasion where all your friends and family have gathered to celebrate with you and wish you the best for the future. Surely, you want to offer the best food to them on this special occasion. As a well-trusted catering for house warming Delhi NCR, Eventia Kitchen can make this possible for you. Any event is incomplete without quality and flavourful dishes that guests can't seem to get enough of. Eventia Kitchen helps you enjoy your time with the family by taking care of the food arrangements and creating lip-smacking and delicious recipes for your guests. As an experienced and well-trusted house warming catering Delhi NCR, we can help you create lifelong memories over good food. Our menu can be personalized as per the dietary requirements of your guests. You can choose from a wide range of catering options that fit well within your budget. As a reliable house warming ceremony catering service, we have expertise in preparing food for events of all scales. You can entrust our experienced chefs with creating the most delicious recipes that will have the guests in awe of your ceremony. We also train our staff well to ensure that your guests have a remarkable experience at the event.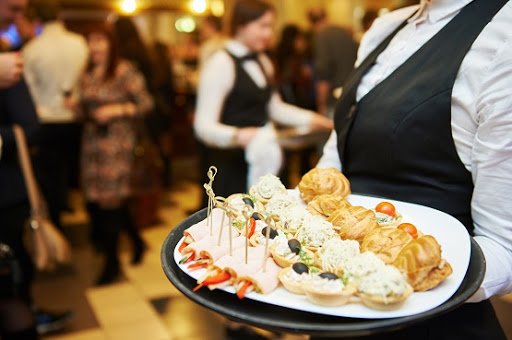 Relax! We'll help you plan, execute and even celebrate your special occasion. All you have to do is get in touch and we'll take care of the rest.
The dishes that we prepare are made with the finest ingredients and will soothe your taste buds. We strive to deliver a flavourful and unforgettable experience to your guests.
You will find a wide range of options while curating the menu for your house warming ceremony. The wide variety of food options that we offer helps our clients create a customized menu with their favorite options on it.
Exceptional customer service
Customer experience is at the top of our priority list. Our staff is extremely polite and well-trained in hospitality. We promise a delightful event for you and your guests during the ceremony. Our serving staff has years of experience and is committed to providing you the best service.
The feast & the beast!!

I couldn't be more happier than this today as I am so thankful to almighty for all the blessings. As a friend, Ive seen Vikas bhaiyya make meals for people as they celebrated, pushed through bad times, moved, packing a basket with re-useable / disposable boxes, pans and zip-lock bags. The dishes inside were carefully thought of.

Food can't solve every problem. But delivering a homemade dish or edible gift to someone's door is a concrete response which is sometimes hard-to-answer. I know that anything coming from outside is of a major concern these days, but its been almost half a decade that he's been sharing goodies with us and that's exactly why I trust him with everything.

Eventia Kitchen dishes yummy feasts everytime.
Ordered the curated nazrane Awadh menu from Eventia kitchen !

Vikas Agarwal thank you very much, the meal was to perfection. From packaging to taste, everything was a delight ! The cooking brought out all the many flavours.

To sum up my experience the food was scrumptious and appetizing ! Loved the small details in packaging !!
Today's delightful feast was delivered home by Eventia Kitchen. 😍

The Lebanese binge came loaded with pita pockets, falafel, khaboos, lavash, hummus, tzatziki and pickled vegetables. And the chocolate hazelnut cake to sum up the sumptuous meal. The Nazrane Awadh non veg platters were a load of amazing delicacies. The richness of their flavours and preparation in dishes left my taste buds spellbound.

Do try them out & Do not miss the Chef Special Mezze Platter!

They are maintaining admirable levels of hygiene standards to keep their staff and kitchen in strict accordance with safety measures issued by WHO.
Nazrane Awadh by Eventia.

Thankyou for delivering this soul satisfying platter. Taste was mind blowing and packaging was 10 on 10. Loved it...

Thankyou!
Lovely delicious goodies by Eventia Kitchen !!! They deserve a giant pat on the back , and a whole lot of extra love and hugs too 🤗🤗😘
Independence Day celebrated with amazing food.. Thank you Eventia for lovely packing and tasty yum Food ... my tastebuds satisfied and Nazrane Awadh (non veg) was a soulful treat. This was the first food I tasted which was not cooked by me since March 21st, 2020. A long wait which turns out a lovely evening with the scrumptious treat .. Thank you❤️
Took a day off from the kitchen and ordered independence day special platter from Eventia. Super cool and hygenic packaging and presentation. Kudos for that.

This platter had veg masala pulav with salan, chicken tikkas in tri color which were super with that basting butter, accompanied with pickled onions and green chutney. Ended it with a delectable phirni. Good stuff I must say.
Thank you so much for doing this on special request & letting me keep this special tradition alive this pandemic year as well!!
Taste par excellence - this box of ♥️. Partook of this well made, well presented, well packed platter last evening...

Behold! Can't believe we hard core non vegetarians drooling over this delectable vegetarian fare.... can't wait for Saawan to get over and lay my hands on the non-vegetarian platter of ♥️