WEDDING CATERING SERVICES ACROSS DELHI/NCR
Weddings are the most magnificent occasions and the food served during a wedding function can make or break the event. Whether it is a pre-wedding function like Mehendi, sangeet, cocktail or the main wedding event, each celebration can be made even grander with the help of the highest quality, delicious tasting food. The wedding catering services in Delhi NCR that we provide are the best in class and stand out because of our premium offerings and exceptional service.
We will get back to you asap!
Catering that adds extra Magic to Weddings
A wedding is a joyous occasion that brings families together. And what better than to have people bond over delicious food. We are the best Wedding caterers in delhi replicate the magic of marriages in our dishes by providing only the most exclusive wedding catering service across Delhi, Gurgaon, South Delhi, Faridabad, East Delhi. We handpick our ingredients, and use recipes that have been perfected over many years. The wedding catering offered by us is not simply about the food, but what the emotions that food invokes. After all, weddings are all about emotion. 
When planning a wedding, it is important to remember that the food needs to be well thought out and should please every guest's taste palette. With our years of experience as wedding caterers in Delhi NCR, we have come to understand what works and what doesn't. Each dish that we dole out is full of flavour, combined with rich textures and has the authentic aroma demanded by the cuisine served. We also take pride in being one of the most sought after wedding caterers and wedding catering services in Delhi with premium services.
As a wedding catering services company, we take our job rather seriously. From providing a menu that is a class apart to executing high quality, delectable dishes , we ensure that your experience surpasses all expectations.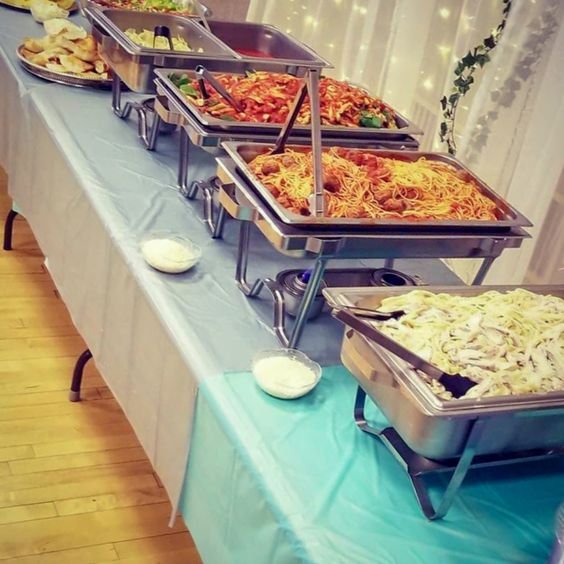 Relax! We'll help you plan, execute and even celebrate your special occasion. All you have to do is get in touch and we'll take care of the rest.
Unbeatable Menu Offerings
Who doesn't want to book a wedding caterers & wedding catering services company with unlimited menu offerings that will make each and every member of your family happy? We can vouch for our carefully curated menu that will make you go gaga!
We specialise in Wedding catering services as creating high quality, rich, aromatic and flavourful dishes is something that comes naturally to us. With our wedding catering services, you are guaranteed of lip-smacking, scrumptious delights that will leave everyone reaching for second, third, even fourth helpings.
What sets a wedding caterers and wedding catering services company apart is its quality of service. We emphasize greatly on our service and value feedback greatly. Our years of experience in hospitality and wedding catering make our service unmatched.
The feast & the beast!!

I couldn't be more happier than this today as I am so thankful to almighty for all the blessings. As a friend, Ive seen Vikas bhaiyya make meals for people as they celebrated, pushed through bad times, moved, packing a basket with re-useable / disposable boxes, pans and zip-lock bags. The dishes inside were carefully thought of.

Food can't solve every problem. But delivering a homemade dish or edible gift to someone's door is a concrete response which is sometimes hard-to-answer. I know that anything coming from outside is of a major concern these days, but its been almost half a decade that he's been sharing goodies with us and that's exactly why I trust him with everything.

Eventia Kitchen dishes yummy feasts everytime.
Ordered the curated nazrane Awadh menu from Eventia kitchen !

Vikas Agarwal thank you very much, the meal was to perfection. From packaging to taste, everything was a delight ! The cooking brought out all the many flavours.

To sum up my experience the food was scrumptious and appetizing ! Loved the small details in packaging !!
Today's delightful feast was delivered home by Eventia Kitchen. 😍

The Lebanese binge came loaded with pita pockets, falafel, khaboos, lavash, hummus, tzatziki and pickled vegetables. And the chocolate hazelnut cake to sum up the sumptuous meal. The Nazrane Awadh non veg platters were a load of amazing delicacies. The richness of their flavours and preparation in dishes left my taste buds spellbound.

Do try them out & Do not miss the Chef Special Mezze Platter!

They are maintaining admirable levels of hygiene standards to keep their staff and kitchen in strict accordance with safety measures issued by WHO.
Nazrane Awadh by Eventia.

Thankyou for delivering this soul satisfying platter. Taste was mind blowing and packaging was 10 on 10. Loved it...

Thankyou!
Lovely delicious goodies by Eventia Kitchen !!! They deserve a giant pat on the back , and a whole lot of extra love and hugs too 🤗🤗😘
Independence Day celebrated with amazing food.. Thank you Eventia for lovely packing and tasty yum Food ... my tastebuds satisfied and Nazrane Awadh (non veg) was a soulful treat. This was the first food I tasted which was not cooked by me since March 21st, 2020. A long wait which turns out a lovely evening with the scrumptious treat .. Thank you❤️
Took a day off from the kitchen and ordered independence day special platter from Eventia. Super cool and hygenic packaging and presentation. Kudos for that.

This platter had veg masala pulav with salan, chicken tikkas in tri color which were super with that basting butter, accompanied with pickled onions and green chutney. Ended it with a delectable phirni. Good stuff I must say.
Thank you so much for doing this on special request & letting me keep this special tradition alive this pandemic year as well!!
Taste par excellence - this box of ♥️. Partook of this well made, well presented, well packed platter last evening...

Behold! Can't believe we hard core non vegetarians drooling over this delectable vegetarian fare.... can't wait for Saawan to get over and lay my hands on the non-vegetarian platter of ♥️
Eventia has blessed me with an experience which I have never witnessed before. They are able to manage their time perfectly and lay out such lavish courses at such huge weddings like it is a piece of cake for them. I guess it is easy for the best wedding caterers in Delhi NCR.
The wedding catering services of Eventia are on another level. Their efficiency and their approachable staff just make it even better. They can put down such a huge variety of courses in such a short time without compromising the quality of the food. They are hands down one of the best caterers available for weddings in Delhi.
After experiencing Eventia Kitchen's wedding catering services, I feel like neither can I call any other catering service, nor can I recommend any other kitchen for weddings. They are simply one of the best. Their ability to manage their time and bring out fresh food without any problems is just amazing. I cannot recommend anyone who is better than them, they are best wedding caterers in Delhi NCR.