BIRTHDAY CATERING SERVICES FOR THE MOST JOYFUL CELEBRATIONS
Who doesn't love birthday parties? Whether you are a child or a senior citizen, birthday parties are always exciting events as you celebrate another year in the life of a loved one. The first thing to keep in mind while planning a birthday are the birthday party food catering services. If you are looking for birthday party caterers in Delhi, you have hit jackpot! We offer bespoke catering services for parties, big or small!
We will get back to you asap!
Specialised Birthday Catering Services for Fabulous Parties
Our birthday party food catering services are perfect for celebrations at home or outside. You have a theme in mind, we can match our menu to it. Whether you are looking for delightful finger foods or elaborate main course meals, you wish is our command. We know that planning a birthday party can be stressful, which is why our party planning and execution is absolutely hassle-free. You will feel like a royal guest at your own party!
Whether it is kids birthday party catering or you are looking for caterers for house party, we ensure that our bespoke and customised catering services will leave you spellbound. Everything from our presentation to our service is niche and exclusive. Even the cosiest gathering will feel like a grand celebration because of our high-quality food and curated menus.
We have been providing birthday party catering services for many years now and are known as one of the best birthday party caterers in Delhi, Our services are also available in different parts of Delhi, Gurgaon, Faridabad, Noida, Ghaziabad etc.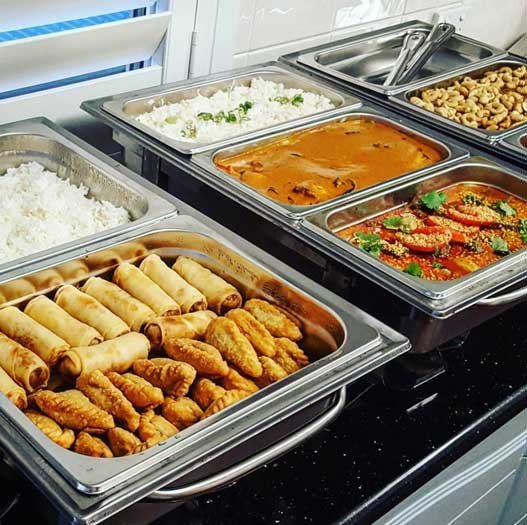 Relax! We'll help you plan, execute and even celebrate your special occasion. All you have to do is get in touch and we'll take care of the rest.
We specialise in creating menus and options that are completely in sync with your theme. The birthday party catering services we extend always have the added benefit of being deisgned specially to your needs. For us, nothing matters more than your vision for your special day. Our food will make any theme come alive.
For birthdays, where there are many age groups gathered in one event, the service needs to be impeccable. We realise this and therefore, we put conscious efforts in making sure that our birthday party food catering services live up to the mark and leave you wanting more.
We know that when you book our birthday catering services, you place a lot of trust in us and nothing is more important to us than to uphold that trust. We leave no stone unturned when it comes to providing services that are not just excellent, but also follow the highest safety and hygiene protocols.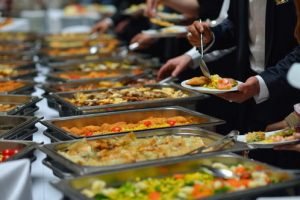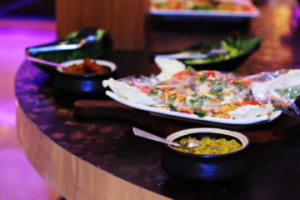 The feast & the beast!!

I couldn't be more happier than this today as I am so thankful to almighty for all the blessings. As a friend, Ive seen Vikas bhaiyya make meals for people as they celebrated, pushed through bad times, moved, packing a basket with re-useable / disposable boxes, pans and zip-lock bags. The dishes inside were carefully thought of.

Food can't solve every problem. But delivering a homemade dish or edible gift to someone's door is a concrete response which is sometimes hard-to-answer. I know that anything coming from outside is of a major concern these days, but its been almost half a decade that he's been sharing goodies with us and that's exactly why I trust him with everything.

Eventia Kitchen dishes yummy feasts everytime.
Ordered the curated nazrane Awadh menu from Eventia kitchen !

Vikas Agarwal thank you very much, the meal was to perfection. From packaging to taste, everything was a delight ! The cooking brought out all the many flavours.

To sum up my experience the food was scrumptious and appetizing ! Loved the small details in packaging !!
Today's delightful feast was delivered home by Eventia Kitchen. 😍

The Lebanese binge came loaded with pita pockets, falafel, khaboos, lavash, hummus, tzatziki and pickled vegetables. And the chocolate hazelnut cake to sum up the sumptuous meal. The Nazrane Awadh non veg platters were a load of amazing delicacies. The richness of their flavours and preparation in dishes left my taste buds spellbound.

Do try them out & Do not miss the Chef Special Mezze Platter!

They are maintaining admirable levels of hygiene standards to keep their staff and kitchen in strict accordance with safety measures issued by WHO.
Nazrane Awadh by Eventia.

Thankyou for delivering this soul satisfying platter. Taste was mind blowing and packaging was 10 on 10. Loved it...

Thankyou!
Lovely delicious goodies by Eventia Kitchen !!! They deserve a giant pat on the back , and a whole lot of extra love and hugs too 🤗🤗😘
Independence Day celebrated with amazing food.. Thank you Eventia for lovely packing and tasty yum Food ... my tastebuds satisfied and Nazrane Awadh (non veg) was a soulful treat. This was the first food I tasted which was not cooked by me since March 21st, 2020. A long wait which turns out a lovely evening with the scrumptious treat .. Thank you❤️
Took a day off from the kitchen and ordered independence day special platter from Eventia. Super cool and hygenic packaging and presentation. Kudos for that.

This platter had veg masala pulav with salan, chicken tikkas in tri color which were super with that basting butter, accompanied with pickled onions and green chutney. Ended it with a delectable phirni. Good stuff I must say.
Thank you so much for doing this on special request & letting me keep this special tradition alive this pandemic year as well!!
Taste par excellence - this box of ♥️. Partook of this well made, well presented, well packed platter last evening...

Behold! Can't believe we hard core non vegetarians drooling over this delectable vegetarian fare.... can't wait for Saawan to get over and lay my hands on the non-vegetarian platter of ♥️